Missy Johnson, CMP, Principal of MJMeetings, LLC Awarded Distinguished Meeting Professional of the Year From PCMA Heartland Chapter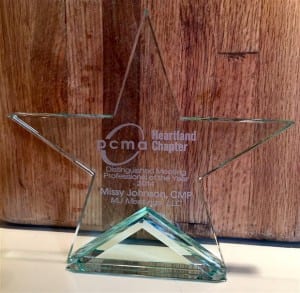 Kansas City – February 6, 2015 – The Heartland Chapter of PCMA, the Professional Convention Management Association, recently selected Missy Johnson, CMP, Principal of MJMeetings, LLC (www.mjmeetings.com) as the Distinguished Meeting Professional of the Year.
This award is presented annually to a member of the PCMA Heartland Chapter who is a full-time meeting professional/planner and recognizes their involvement, commitment and achievement in a given year. Recipients are role models and exemplify professional excellence.
One of the nominating members said: "Missy has had quite a year. In spite of starting her own business, she still took time to support and dedicate her time to our chapter. She assisted with the nominations committee this year. She assisted with the Past Presidents Reception. And she has facilitated programs. She is awesome and amazing! Missy is a very active Past President and is a good role model for our up and coming leaders."
Missy's career in the hospitality industry began in 1995 at the Hyatt Regency Crown Center hotel in Kansas City. In 2000, Missy moved to 'the other side' of the industry and pursued a career in meeting planning.
She has worked in that capacity (as a Meeting Planner, Senior Meeting Planner, and Meeting Manager) over the years at the American Academy of Family Physicians (AAFP), Applied Measurement Professionals (AMP), and Lockton Companies. In November 2013, Missy launched MJMeetings, LLC, which provides turnkey A-Z meeting logistics for corporate and association clients.
MJMeetings, LLC is a full-service meeting and event planning company located in Greater Kansas City.  Their focus is on making clients business objectives come to life through flawlessly planned and executed face-to-face live events. MJMeetings, LLC provides turnkey A-Z meeting logistics, from site research all the way to final bill review. They handle various meeting types, with corporate and association meetings ranging from 50 people to several thousand, as their primary focus. For further information, visit www.mjmeetings.com or contact (913) 645-6649.
https://www.mjmeetings.com/wp-content/uploads/2015/02/Deborah-Sexton-and-Missy-Johnson.jpg
465
620
Missy Johnson
http://www.mjmeetings.com/wp-content/uploads/2017/10/logo-mjmeetings-156px.jpg
Missy Johnson
2015-02-06 14:55:28
2015-03-05 01:55:41
Missy Johnson, CMP, Principal of MJMeetings, LLC Awarded Distinguished Meeting Professional of the Year From PCMA Heartland Chapter